Three Ways to Access National German Exam Practice
Date posted
October 24, 2023
There are three ways for teachers, students, and administrators to access NGE Practice Exams. We list them in order of the most common to the least common access method.
1). Access the Practice Exams in the Exam Courses (

NGE Registration Required

):
All of the NGE practice exams are located in the official exam courses this year, no setup required! After registration, click on any NGE exam course, then click on Modules on the right sidebar. You'll see 4 practice modules with content that your students can work through. The level the student is registered for (level 2, 3, or 4) is the practice module that is placed at the top and is the recommended practice.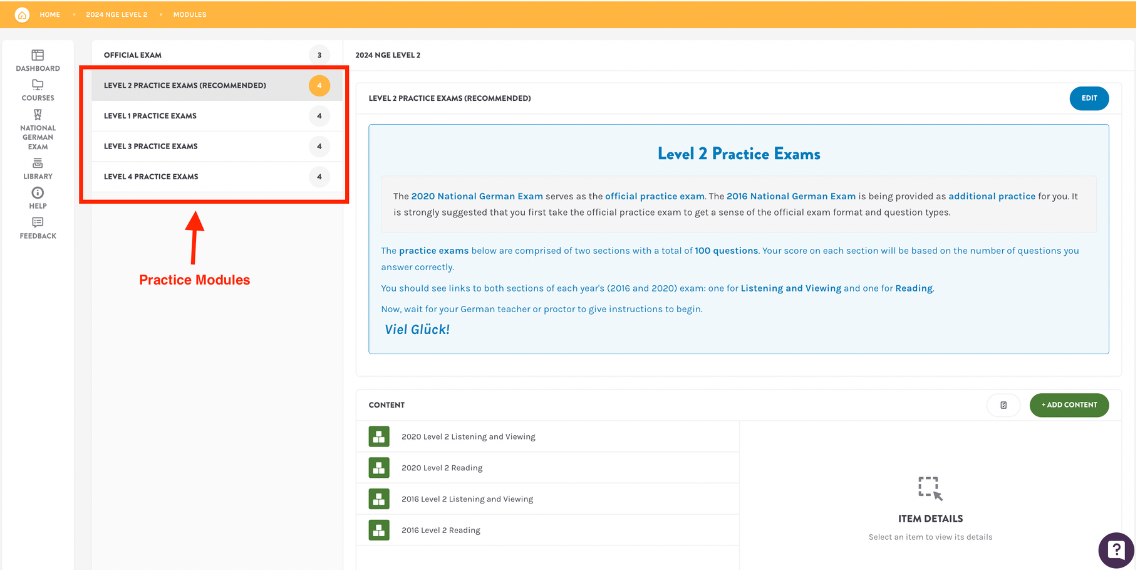 2). Access the Practice Only Course (

NGE Registration Not Required

):
To ensure that students who are not registered for the exam can still access the practice materials, Lingco has made a separate, publicly accessible course for NGE Practice Material. You must register your students for the Practice Only Course at https://class.lingco.io/goto/nge_prep_2024.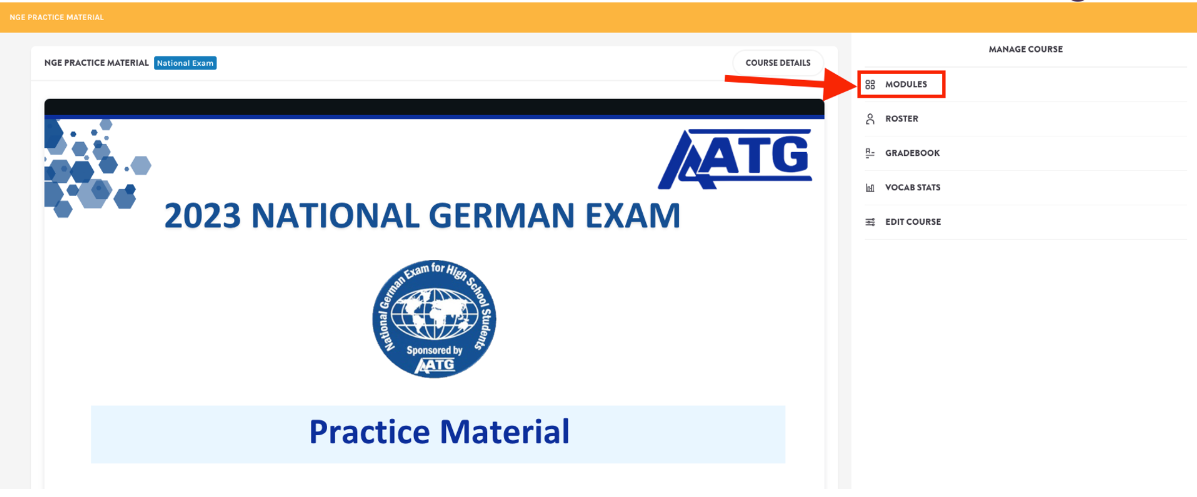 3). NGE Samples:
Are you unfamiliar with the NGE, and would like to know more about the test? Would you or your school like to review sample quizzes before deciding to administer the exam? The NGE has a free, open source sample quiz for each level: Level 1 Reading, Level 1 Listening, Level 2 Reading, Level 2 Listening, Level 3 Reading, Level 3 Listening, Level 4 Reading, and Level 4 Listening.
Before registering...
Read the NGE Registration Guide, which outlines the technical requirements for administering the exam and the registration steps.

Find out if your school district/institution requires you to have a data privacy agreement (DPA) signed before you and your students can use Lingco's platform. Send your DPA request to support@lingco.io.

Work with your school's network/IT administrator to ensure that Lingco emails are not blocked from reaching student and teacher accounts. Read this help article to learn more.