AATG Diversity, Equity, and Inclusion (DEI) Committee
Welcome to the DEI Committee Page!
The DEI Committee works with the AATG mission and with the Board of Directors to promote inclusivity, diversity, and equity within all aspects of our profession. We'll use this space to share our work, helpful resources, and all things related to DEI and AATG.
Upcoming webinar: Learning German through an LGBTQ+ Lens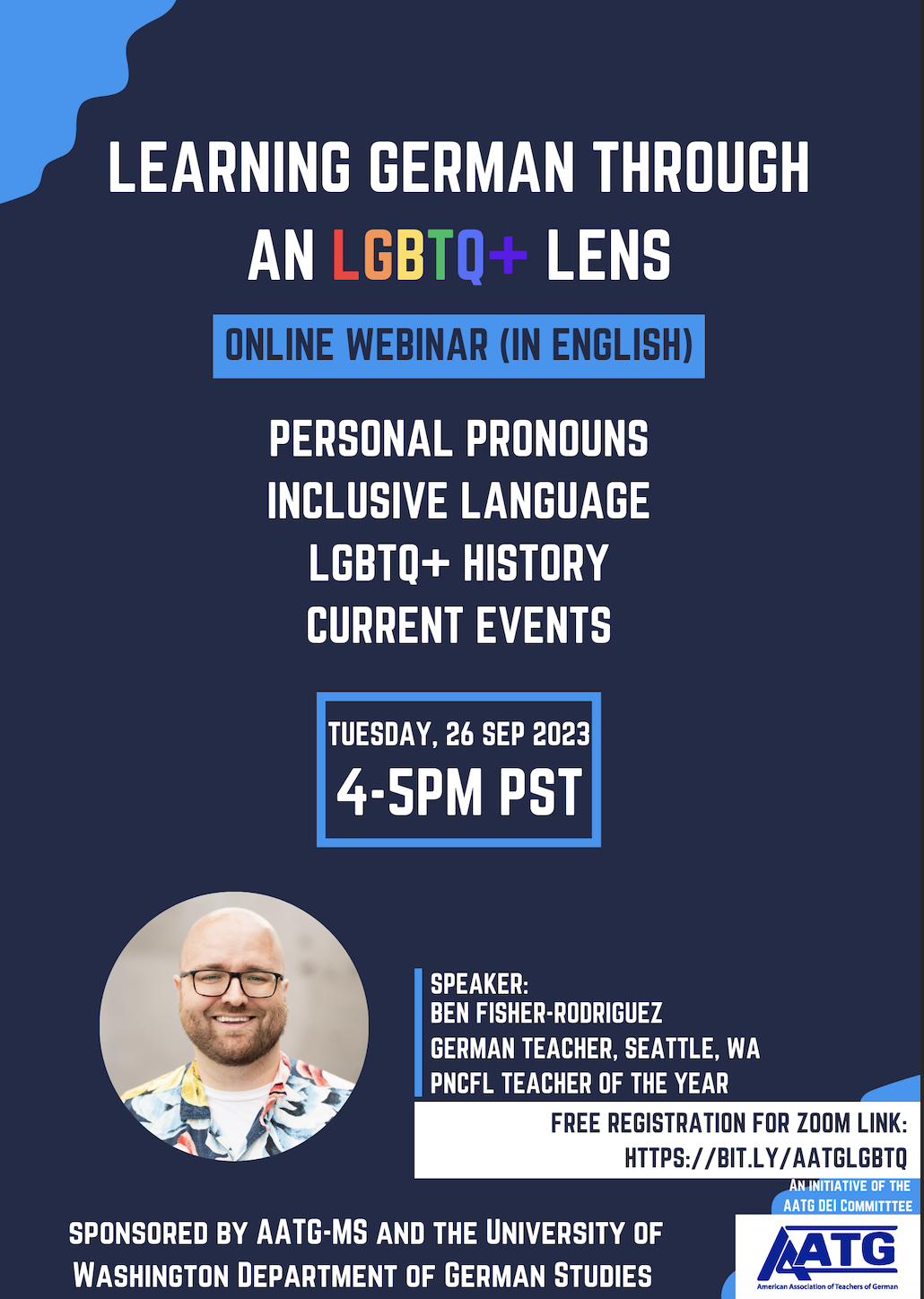 How can we engage with LGBTQ+ topics as we learn German, and build a common vocabulary for these discussions? Presented by German teacher and PNCFL Teacher of the Year Ben Fisher-Rodriguez, this session provides a foundation of information to empower German learners to continue and deepen their explorations of these issues, which include personal pronouns, inclusive language, LGBTQ history, and current events in the German-speaking world. The one-hour webinar will be in English with links to resources in German and English. Participants will be able to ask or type questions at the end of the presentation, and a recording of the session will be available to those who are unable to attend.
Please note that this presentation is geared towards learners of German at the high school and undergraduate levels, but anyone is welcome to attend. (Participants do not have to be members of AATG.)
Tuesday, September 26 at 4pm PST: Click here for the registration link.
AATG Statement of Commitment to Diversity, Equity, and Inclusion

The American Association of Teachers of German (AATG) recognizes and appreciates the importance of creating an environment in which all members feel valued, included, and empowered. The AATG recognizes that each member's unique experiences, perspectives, and viewpoints add value to the AATG's ability to create and deliver the best possible service to our members.

With the full understanding that our individual social, ethnic, economic, and cultural identities shape and influence our experiences and perspectives, the AATG will promote diversity, equity, and inclusion for all.

Diversity shall be defined as creating an organizational environment that honors the entities, experiences, and intersectionality of race, ethnicity, nationality, gender, sexual orientation, physical abilities, intellectual abilities, age, socioeconomic status, political beliefs, religious beliefs, and ideologies.

Equity shall be defined as understanding the myriad facets of people's backgrounds and working to ensure fair access to services, opportunities, and resources.

Inclusion shall be defined as the promotion of fair, safe, supportive, healthy, and open engagement among the diverse community of AATG members.
DEI Committee
The AATG DEI Committee is selected by the president and is made up of not more than six regular members plus a chair. The chair is drawn from the Board of Directors and serves for two years. The committee members are evenly split between K-12 and post-secondary AATG members and each serve for two years.