AATG German Summer Study Program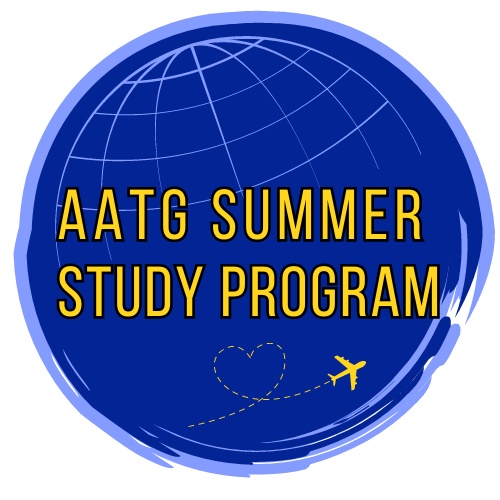 Are you a high school student looking for adventure in Germany? Are you a parent looking to provide your child with a summer study opportunity with a proven track record? Are you a teacher looking for a three-week immersion program where students connect with German language and culture?
The German Summer Study Program for High School Students provides a three-week homestay and school experience. Students attend classes at a Gesamtschule (high school), live with the family of a sibling who attends the school, visit regional attractions, and experience the German language and culture firsthand. Students return speaking German better - with a greater sense of confidence, maturity, and independence.
The program is sponsored in cooperation with the German government's Pedagogical Exchange Service (PAD). Over 2,600 students have benefited from this unique experience since the program was created in 1978!
Stay tuned for updates on our 2024 program.
---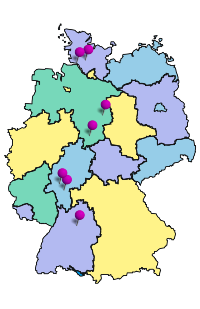 2023 Program Sites and Dates
Sassenburg (Niedersachsen) - June 13 - July 2, 2023
Bovenden (Niedersachsen) - June 13 - July 2, 2023
Wölfersheim (Hessen) - June 20 - July 9, 2023
Pinneberg (Schleswig-Holstein) - June 27 - July 16, 2023
Kellinghusen (Schleswig-Holstein) - June 27 - July 16, 2023
Heidelberg (Baden-Württemberg) - July 4 - 23, 2023
Höchst (Hessen) - July 4 - 23, 2023
Learn more about our 2023 locations here!
Locations and dates for 2024 will be announced in late Fall.
---
Program Highlights
A Learning Experience Immersed in German. There is no better or more effective way to learn a language than to be immersed in the culture: the German Summer Study Program provides high school students an opportunity to improve their global awareness and intercultural understanding—and improve their language skills. Living and studying in Germany is a great way to develop international friendships that last a lifetime!
Attend Classes. The host Gesamtschule (high school) is still in session when the American students arrive and special arrangements are made to integrate American students into the German school. Program participants have German lessons tailored to meet their needs and also attend regular classes with their host brother/sister during the day.
Live With a German Family. Students experience Germany as part of a family. Each student is partnered with a host sibling who attends the local high school. Host families are carefully chosen and every effort is made to match students with similar interests. Connecting with young Germans and being integrated into their daily life creates a unique and memorable experience.
Visit Fascinating Places. It's not all about school! Local educators lead students on excursions to explore nearby cities, museums, castles, monuments, and the great outdoors. On weekends, host families generally plan trips to show their visiting student the surrounding area. During the final week of the program, students will also travel to the city of Leipzig to explore its rich history and culture.
Adult Supervision. Immersion in the German culture is exciting, and there is a lot to learn. From departure to Germany to arrival back in the US, students are chaperoned by a qualified American high school teacher of German. The chaperone supervises excursions, serves as a liaison with the German school, and provides the support students need when they're away from home.
Interested in being a chaperone? Find more information here.
Check out student testimonials from our 2022 group in our Fall newsletter.
Application Requirements and Program Cost
Eligibility Requirements. Students who have had two years of German and are between the ages of 15 and 17 for the duration of the program are eligible.
Please note that per our German partner's requirements, participants must be fully vaccinated against measles.
Program Cost. The program cost for 2024 will be announced in the Fall.
Administrative Fee. $150, non-refundable
Application Deadline. January 19, 2024
Insurance Coverage. All participants, including teacher chaperones, are covered by AATG's accident and health policy. Chaperones are also covered by liability insurance.
Need-Based Financial Aid Available. Scholarships of up to 50% of program costs are available to students with financial need. Other scholarships may be available to eligible participants. Detailed scholarship information and application materials are available on the Scholarships page. Please note that the deadline to apply for all AATG scholarships is December 15, 2023.
Not Included in Price. Passport fees, excess baggage charges, transportation to and from the participant's home to the US departure airport, and other items of a strictly personal nature are not included in the program cost.
Application and Payment Schedule.
Applications will be available in the Fall. Check back here or sign up for our e-mail list via the button above.
Applications are accepted until January 19, 2024. You will be informed of your acceptance status in early February.
The non-refundable $150 administrative fee is due by February 15, 2024.
Additional documents and the initial payment ($1000) are due by March 1, 2024.
Full payment is due six weeks prior to departure. Payment can be made by credit or debit card in our online store, or by sending a check or money order.
Cancellation Policy: If a participant withdraws from the program up to six weeks prior to its start date, they will receive a full refund less any costs incurred by AATG; withdrawal from the program four to six weeks prior to its start date will result in a cancellation fee of $500, plus incurred cost; withdrawal from the program four weeks or less prior its start date will result in a $500 cancellation fee, plus incurred cost, plus additional fees as determined by AATG after the program is completed.