SPARK for German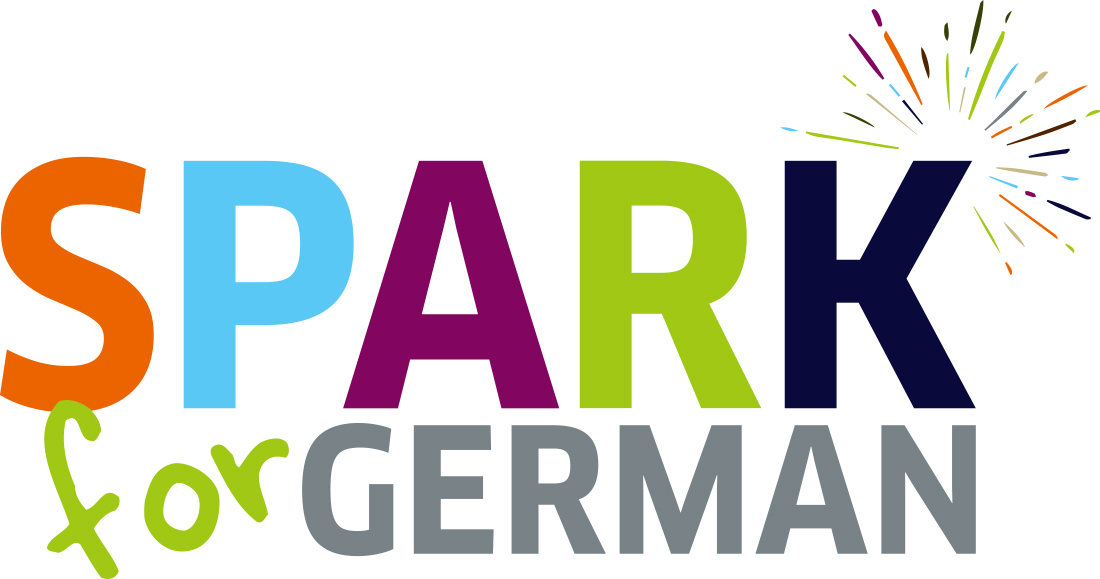 SPARK for German, a joint project of the American Association of Teachers of German (AATG) and the Goethe-Institut, provides professional development for future German instructors and enables students across the United States to start learning German at an early age. SPARK offers a playful approach to German lessons in after school programs —providing early access to language instruction and creating opportunities for students to learn German into advanced levels. SPARK's long-term goal is to increase demand and build capacity to integrate German into the regular curriculum in immersion, elementary, middle, and high school programs.
SPARK Participants may request a SPARK box here.
Background for SPARK
College students with German proficiency will be trained to teach introductory German lessons in school and community after school programs. High school German students and their teachers will offer programming to feeder schools in order to spark interest in German.
How does SPARK work?
Colleges, universities and high schools work with the AATG and the Goethe-Institut to provide training for German students and future German teachers to become SPARK instructors. After successfully completing their initial training, SPARK instructors will teach German to young learners in after school programs. Where possible, SPARK instructors will be granted appropriate credits and acknowledgment by their home institutions and schools.
What does SPARK offer?
Ready-to-use, flexible, and adaptable teaching units and materials designed for use with elementary and middle school students.

Professional development opportunities for undergraduate and graduate students interested in pursuing a German teaching career and teachers.

Certificates of completion for successful instructors and participants.

Comprehensive program support from professional coordinators.
Who benefits?
Young learners in SPARK after school programs get to know Germany and cultures of the German-speaking world.

Families access quality after school programming that teaches students a new language and fosters intercultural competence.

College students studying German strengthen their own German language proficiency and gain valuable work experience while sharing what they have learned.

Students interested in exploring a teaching career improve their instructional skills and learn how to facilitate interactive lessons in the target language.

Participating college and university faculty have access to high quality materials and professional development opportunities and join the national SPARK network of German instructors, curriculum developers, and trainers

Local programs benefit from quality instruction and more highly qualified teachers in the future. German instruction in after school programs connects communities to global cultures.
Role of College/University Faculty
Identify participating college students.

Train, supervise, and mentor participating college students.

Identify potential schools and collaborating organizations.

Serve as a point of contact for students, schools, regional coordinators, and the Goethe-Institut and AATG.

Strengthen existing German programs and advocate for new German programs in order to ensure that German is offered in feeder schools and in all regions of the US.
Role of K-12 teachers
Partner with existing SPARK Labs to support the development and implementation of German in after school programs.

Become a SPARK Lab by offering after school programs at your feeder schools.

Identify future German teachers and mentor college/university students.

Infuse existing German programs with new ideas and input.

Advocate for new German programs in order to ensure that German is offered in feeder schools and across one's school district.
Who supports SPARK for German?
The Goethe-Institut and the AATG are grateful that the SPARK program has been met with enthusiastic interest from educational institutions at all levels. Thanks to the generous support of Germany's Federal Foreign Office we are able to spark interest in German in communities across the United States.
Interested in applying to join SPARK for German?
If you are a college/university instructor, please use this link
If you are a K-12 instructor, please use this link
Want to find out more?
Contact us at spark-washington@goethe.de.